We have carefully selected the following organised group tours from the world's leading adventure travel companies to offer you the best experience of travelling to India. For convenience, we have organised these into country-wide tours and (where available) regional tours, trekking itineraries and multi-country overland tours incorporating India. For further details and to book your tour, click "details & booking" to visit the tour company website.
Rail Tours of Northern India
Active (0)
Cycling (0)
Festival (0)
Rail (2)
Photography (0)
Gastronomy (0)
Volunteer (0)
India's Palace on Wheels
15
days
from
£3998
incl. flights*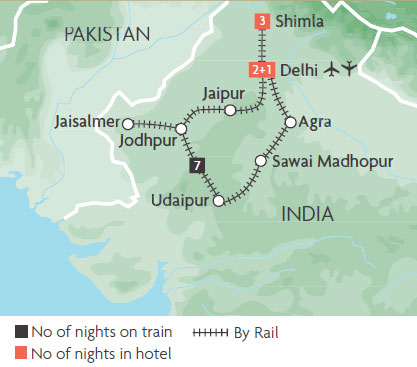 Magnificent palaces and forts are waiting to be discovered on this India rail adventure on board the Palace on Wheels train. Experience the lifestyle of the Maharajas as we visit walled cities, marvel at the astonishing Taj Mahal and enjoy tiger spotting.
Experience the world by rail, where the journey itself is so often as enjoyable as the destination. There's no better way to travel; soaking up ever-changing landscapes as they roll past your window, sharing time with the local people, waking up each day with a new place explore. Travel by rail often has a romantic appeal, but in many countries it's also surprisingly comfortable, efficient and affordable. Best of all it gives you the chance to meet and mingle with your fellow passengers, immersing yourself in local life. We generally avoid tourist trains, choosing instead the more authentic experience of travelling on the everyday trains used by local people.
Kolkata to Amritsar
15
days
from
£1079
excl. flights*
Travel on India's extensive rail network from Kolkata in the Bay of Bengal to Amritsar's Golden Temple. We travel to India's holiest places including the birthplace of Buddhism in Bodhgaya and the sacred city of Varanasi. We also sail along the Ganges in a fishing boat and ride on a steam train to an old Himalayan hillstation.
* Prices are either exclusive of international flights or inclusive of flights from and to the UK as stated. Prices may vary depending on the specific departure date. Some tours may include an additional local payment to be paid in cash (USD or EURO) to the tour leader at the beginning of the tour. Please refer to the tour website for details.