We have carefully selected the following organised group tours from the world's leading adventure travel companies to offer you the best experience of travelling to Burma. For convenience, we have organised these into country-wide tours and (where available) regional tours, trekking itineraries and multi-country overland tours incorporating Burma. For further details and to book your tour, click "details & booking" to visit the tour company website.
Tours of Burma
General (15)
Family (0)
Festival (0)
Rail (0)
Gastronomy (0)
Sailing (0)
Volunteer (0)
Style: All (15) | Budget (2) | Standard (5) | Comfort (8)
Get beyond the tourist faēade of the countries you visit. Focus on the local culture, past and present, and discover the lifeblood of any country – its people. Discovery and culture tours uncover different ways of life, and offer the opportunity to meet and sometimes stay with local people or tribal groups. Our discovery tours explore cultural sites – both ancient and modern – and help you learn about the people and their culture. Visit the remote tribes of Ethiopia's Rift Valley, live the nomad life in desert camps or meet the local people of the high Andean altiplano in Peru. There's no better way to get to the true heart of a country than through its people.
Burma In Depth
21
days
from
£2489
excl. flights*
This adventurous tour of Burma (Myanmar) takes us to fascinating sights beyond the classic highlights. We travel deep into the Mon State to Ogre Island and join local pilgrims as they admire the sunset from the sacred Golden Rock at Mount Kyaikhtiyo. We marvel at the grandeur of Bagan, discover authentic rural life in and around Hsipaw and witness the fascinating world of Inle Lake. We also cross the dramatic Gokteik Viaduct by train and explore the cities of Mandalay and Rangoon.
North-East India & Myanmar: Across The Indo-Burmese Border
17
days
from
£3495
excl. flights*
For years travellers have been both fascinated and frustrated by the challenges of crossing overland between India and Myanmar as the border has effectively been closed to all but the most persistent who still had to rely on luck if they were to obtain the official permissions required for such a journey.This is starting now to change and we are delighted therefore to be able to offer this unique chance to experience a veritable 'wild frontier' and to cross from India's remote north-eastern states into Myanmar's rarely visited western zone. Although our adventurous route will take us from the tea-plantations of Assam, through the tribal areas of Nagaland and across the border towards the breath-taking summit of Mt.Victoria and the temples of Bagan, it is in the smaller places where we expect the longer-lasting memories to be forged - meeting beautifully adorned women in remote Chin villages or watching local Manipuris skilfully navigate the waters of Loktak Lake in their dugout canoes.This is not a regular trip and promises to be one that will finally open up a once impenetrable part of Asia
Best of Burma with a Taste of Thailand
17
days
from
£3099
incl. flights*
Immortalised in Rudyard Kiplings famous poem Mandalay, now is the time to visit Burma (Myanmar), an up-and-coming destination inviting visitors to discover its culture, spirituality, striking architecture of golden pagodas and intriguing stupas, and magnificent natural wonders. Our comprehensive tour includes the royal city of Mandalay, the city of Bagan with its remarkable skyline of 3,000 temples, the beautiful Inle Lake, and the colonial city of Yangon. Combined perfectly with a few fascinating days in Thailand - the Land of Smiles - join us, the experts in escorted touring, to explore this magical region for yourself.
Temples and Villages of Burma
15
days
from
£3699
incl. flights*
The Irrawaddy Flotilla Company's steamers dominated the waterways of Burma from their establishment during the colonial era in 1865, through the 1920s until their destruction in 1942. In 1995, Pandaw were pioneers in offering the first passenger cruises since World War II, in replicas of those bygone ships, maintained in the same teak and hard wood style, utilised 150 years ago. Set sail for a unique cruise upon the same Burmese waters that have been an essential part of local life for millennia. Circle impenetrable mountain ranges, lined with remarkable ancient temples and monasteries. Combine this perfectly with time in Yangon and the beautiful Inle Lake, to balance the gentle village life with the city bustle of this spiritual country.
Burmese River Expedition: In The Footsteps of Elephant Bill
15
days
from
£3695
excl. flights*
An enigmatic land of golden pagodas and mist-shrouded jungle, Myanmar was once described by Rudyard Kipling as a place 'quite unlike any...you know about'. It was into this timeless landscape that a young man by the name of James Howard Williams arrived in 1920, to take up a post with the Bombay Burma Trading Corporation.Over the next 25 years this remarkable individual lived a life straight from the pages of a 'Boy's Own' adventure story, going on to earn himself the moniker of 'Elephant Bill' and eventually leading a dramatic exodus of elephants and refugees across the Burmese highlands into India.Following in his adventurous footsteps we journey by river into the jungles of the Upper Chindwin Valley, travelling into some of Myanmar's most remote landscapes. We'll take in the cultural highlights of Yangon, Mandalay and Bagan and sail into the very heart of Burma's ancient teak forests; journeying to the northern reaches of colonial Burma, where J.H. Williams began his remarkable story.
Myanmar: The Road To Mandalay
14
days
from
£3395
excl. flights*
An enigmatic land of golden pagodas and mist-shrouded jungle, Burma was once described by Rudyard Kipling as a place 'quite unlike any...you know about'. Isolated for years by the outside world, it remains an enigma to many. But those that enter will discover a timeless land of colonial elegance and Buddhist tradition that has changed little over the intervening years. Across the plains of Bagan we can gaze across a seemingly endless sea of temples and pagodas, whilst amongst the bustling streets of Yangon and Mandalay the old world and the new clash in a vibrant explosion of colour and sound. We will walk in the footsteps of pilgrims and adventurers, as we travel from the city streets of old Yangon (Rangoon) to the stunning landscapes around Lake Inle, taking in Shan villages and some of the most revered religious monuments in Southeast Asia along the way.
Walking in Myanmar: Villages, Temples and Tribes
14
days
from
£3295
excl. flights*
As Myanmar (Burma), undoubtedly one of THE destinations to visit at the moment, opens up to an ever increasing number of visitors, the challenge for us here at WF is to continue to develop tours which offer truly authentic and memorable experiences. This is exactly what we hope to have achieved with this brand new trip which spends much of its time away from the main roads preferring to focus instead on village life in the stunning Burmese countryside. Spending many days primarily on our feet, we'll take to the hills and visit a wide variety of the ethnic peoples that make up Myanmar (of which the Burmese themselves are only one such group). Each day's trekking may have its own set of challenges but this is not a trip about "bagging peaks"; rather this is an opportunity for those who prefer a slightly more active approach to experiencing a country and are willing to put in the effort required to reach some of the country's remoter areas. However when all is said and done, no visit would be complete without taking in the famed areas of Bagan and Lake Inle and there will be ample time to enjoy these better known highlights too.
Our Discovery collection draws together the best of our holidays that focus on the culture of a destination, as well as on visiting iconic sights and embracing local traditions. Some of these Discovery holidays will also have an element of activity, combining sightseeing with short walks, for example. Others might have a multi-activity holiday format, including biking and/or rafting, for instance, and these holidays are specifically designed for the adrenaline seeker! Also within our discovery collection are those of our holidays with a wildlife emphasis, photographic workshops, and polar cruise holidays. Never too physically demanding, these are predominantly touring holidays and their grade (usually towards the lower end of our 1 to 12 scale) reflects, in part, the remoteness of the area visited and the conditions likely to be encountered. Our Discovery holidays allow the discerning traveller to get right to the heart of many of the world's most stimulating destinations.
Temples and Trails of Burma
14
days
from
£1895
excl. flights*
During 2 weeks in Burma (Myanmar) we will seek out many of the acknowledged highlights, but also take time to get off the beaten track on a 4-day hike through the forest and farmland of the hill-country north of Inle Lake. We start our journey in the capital city of Rangoon (Yangon), with its magnificent, golden Schwedagon Pagoda. From here, we fly north to Heho and visit the collection of Buddhist stupas at Kakku, before spending a couple of days on an around Inle Lake, home to floating villages and fishermen with conical nets and a distinctive style of 'foot-rowing'. After our trek from Pindaya to Kalaw, via hill-tribe villages and monasteries, we make the short hop to the former royal capital, Mandalay. Here, our sightseeing tour will include a boat trip to the giant bell at Mingun and a sunset stroll along the 1200 metre-long teak bridge at U Bein. An unforgettable day's journey by boat down the Irrawaddy then takes us to Bagan, one of the outstanding highlights of the region thanks to its many hundreds of ancient temples, scattered across a tree-studded plain. This largest and most diverse of SE Asian countries has the power to surprise, with its amazing variety of landscape, cultural richness and charming people. KE's Position on Travel and Tourism in BurmaOff-limits for 15 years, the National League for Democracy (Aung San Suu Kyi's political party) announced in early November 2010 that the boycott on tourism should be lifted. With the general message from the Burmese people also encouraging outside visitors, we made the decision to set up our first ever holiday in Burma. From the outset, we were careful to design the itinerary with the help of a Burmese agent who, as much as is possible, makes use of independent and privately-run businesses, rather than those run by the military regime. We feel that it is appropriate now to let KE clients have the chance to make their own minds up about this fascinating and fast-changing country and believe that tourist visits by well-informed people, who have an interest in Burma's social and political issues, can be of benefit to the Burmese people.
Get beyond the tourist faēade of the countries you visit. Focus on the local culture, past and present, and discover the lifeblood of any country – its people. Discovery and culture tours uncover different ways of life, and offer the opportunity to meet and sometimes stay with local people or tribal groups. Our discovery tours explore cultural sites – both ancient and modern – and help you learn about the people and their culture. Visit the remote tribes of Ethiopia's Rift Valley, live the nomad life in desert camps or meet the local people of the high Andean altiplano in Peru. There's no better way to get to the true heart of a country than through its people.
Burma Highlights
14
days
from
£1629
excl. flights*
Half-hidden from the world for decades and only recently re-opened to visitors, Burma (Myanmar) is an exciting and adventurous destination. On this trip we admire gold-encrusted pagodas in Rangoon, floating gardens and stilt villages at Inle Lake and the giant pagoda and bell at Mingun. We explore the many temples of the spectacular Bagan Plains and the ancient cities of Amarapura and Inwa. We also explore the Shan Highlands, discovering the old British hill station of Kalaw.
Excellent value, amazing prices, quality experiences. Simple and clean hotels, guesthouses and hostels chosen for location and character. Affordable public and private transport for maximum cultural interaction. Plenty of optional activities tailored to your interests and budget.
Popular with 18-30-somethings. Yolo trips are built for those who want to take on the planet in a fun and affordable way with a small group of like-minded travellers. Skip the oversized tour bus and truly connect with your destination. Hit the highlights without giving up the freedom to mix it up according to your own tastes.
Myanmar on a Shoestring
14
days
from
£1299
excl. flights*
Amazing, surreal, largely untouched by modernity – there are a ton of ways to describe Myanmar (also known as Burma), but it's better to visit and see for yourself. Using Thailand as a jumping off point, take two weeks to walk, hike, and roam all over the region, from the Bagan temples and ruins to the rice paddies and rural hilltribes. And with two flights included, you'll avoid long travel days and ensure you get the most out of your cultural immersion in different Myanma towns. Just trust us when we say you need to experience the wonder and beauty of Myanmar for yourself at least once in your life. Make that time now – right now.
Great value, reasonable prices, quality experiences. Comfortable and varied tourist-class accommodations chosen for location and character. Mix of public and private transport for the best overall experience. All the top highlights included, plus plenty of time to explore on your own.
The trips we've build our reputation on. Designed for maximum variety, these trips are geared towards travellers searching for a healthy mix of active exploration, uncommon landscapes, amazing wildlife and local cultures.
Classic Burma Adventure
14
days
from
£1274
excl. flights*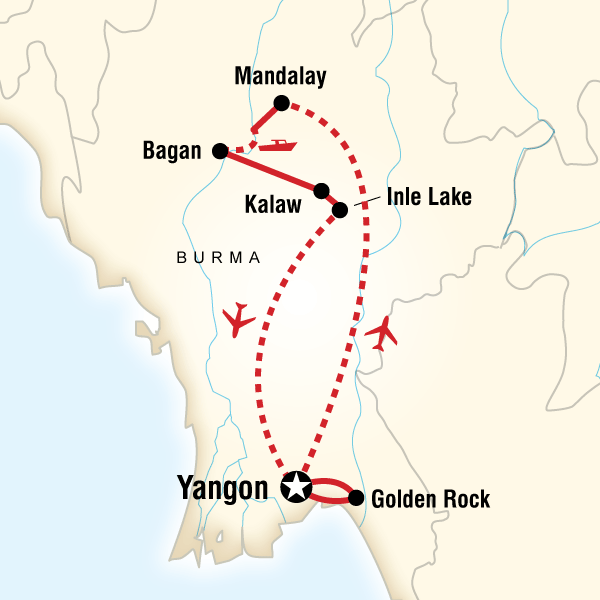 As a relative newcomer to adventure travel, exploring the mysterious nation of Myanmar (also known as Burma) often feels like setting foot on a foreign, untouched planet. With few other travellers to contend with, the natural and man-made wonders of this underexplored part of Southeast Asia often feel like they've been placed here just for you. And what wonders they are: Inle Lake's unique floating gardens, the staggering imperial ruins of ancient Bagan, the incomparable palaces of Mandalay, and enveloping forests throughout. Unknown pleasures await – come find them.
Southern Burma and Islands of the Andaman Sea
13
days
from
£3595
excl. flights*
While most first-time visitors to Burma head understandably north from Yangon to the much acclaimed sights of Mandalay, Bagan and Lake Inle, for those who head south an altogether different and less visited world awaits.On this epic journey which will take us from the Burmese capital to its very southern tip, we'll not only discover the cultural treasures around Hpa An and Mawlamyaing but also the rural charms of Bilu Island and the thought-provoking World War Two cemetery at Thanbyuzayat. More notably perhaps upon arrival at the remote southerly town of Myeik we'll head out into the Andaman Sea and charter our own boat for a 5-day journey through some of the stunning 800 islands that make up the tropical Mergui Archipelago. Here, amongst the fading world of the Moken, the so-called 'Sea Gypsies'¯ - a tribe of maritime hunter-gatherers who have made this region their home over the last 4000 years - we'll mingle with the isolated fishing communities who inhabit this area of Burma that was until recently almost impossible to gain the necessary permits to visit.This tour offers an insight into a very different Burma and as well as offering ample opportunities to relax in the warm waters of Southeast Asia it will be certain to appeal to those who prefer their adventures a little bit more unscripted.
Undiscovered Burma
13
days
from
£2589
excl. flights*
Starting in the bustling metropolis of Rangoon, we soon escape the main tourist trail as we set off on an exploratory tour of the far south of Burma. Venturing into an area that few tourists have been before, we visit fading colonial towns, cruise amongst tropical islands, encounter traditional Burmese fisherman and camp overnight on pristine white sand beaches. There are opportunities to snorkel, kayak and sample fresh seafood caught straight from the ocean the very same day. It is also possible to add on a 3 day extension to the magnificent and vast temple plains of Bagan. Please see trip code BARP for more details.
All the adventure you want, with a softer landing. Handpicked, character-rich accommodations with upgraded amenities services. Upgraded and private transport, including flights to maximize time. More included meals, activities and transfers.
The Heart of Myanmar (Burma)
12
days
from
£1999
excl. flights*
Try on a new kind of adventure and immerse yourself in the warm and mysterious culture of Myanmar (Burma). Cruise the mighty Irrawaddy River to the ancient city of Bagan, home to over 2200 beautiful temples and pagodas. Explore the floating villages on serene Inle Lake. Visit Kyan Sithar Umin monastery to meet a Buddhist monk and climb Mandalay Hill to reflect on serene views of the surrounding countryside. Come to a special place and create some new favourite memories.
Rivers, Roads and Rail to Rangoon
11
days
from
£1119
excl. flights*
This exciting journey takes us from relaxed northern Thailand, to the beautiful and serene Inle Lake, across the central plains of Burma to the temples of Bagan, before ending in the old capital of Rangoon. We make use of Burma's public transport network, with the chance to engage with locals on a bus ride to Bagan, and an opportunity to travel between Mandalay and Rangoon on a colonial railway line originally built by the British. Also included is a leisurely two-day river cruise along Burma's biggest waterway, the Irrawaddy. It's an adventurous trip that, in just 11 days, allows us to take in Burma's major highlights and offers us the chance to interact with its warm and welcoming inhabitants. Should I go? Signalling the end of a fifteen-year tourism boycott, Aung San Suu Kyi, the Burmese pro-democracy leader, gave her blessing for the return of tourism to Burma in November 2010. National League for Democracy (NLD) leader U Win Tin said, "We want people to come to Burma, not to help the junta, but to help the people by understanding the situation: political, economic, moral - everything." The return of small groups and individuals to Burma has been endorsed by Burma Campaign UK and the Free Burma campaign. We are delighted to have returned to the country, having respected the boycott, we remain acutely aware of our ethical responsibility. We use a privately-owned Burmese agent for all of our local services, and our itineraries have been carefully planned to limit the use of services owned by, or affiliated with, the former military junta. This ensures that the Burmese people benefit as much as possible from our tours. We strongly believe that we contribute positively to the local economy, whilst providing our customers with the privilege of direct interaction with the local people, as well as an insight into the country's unique culture and heritage. On the 8th November 2015, 50 years of military rule came to an end when the NLD won a land-slide victory in Burma's first national vote. The country is embracing an unprecedented period of change, but with the military junta still retaining 25% of its seats. Visiting Burma now offers a fascinating insight into the politics of a country grappling with, and slowly embracing democracy and the 21st Century
* Prices are either exclusive of international flights or inclusive of flights from and to the UK as stated. Prices may vary depending on the specific departure date. Some tours may include an additional local payment to be paid in cash (USD or EURO) to the tour leader at the beginning of the tour. Please refer to the tour website for details.