Listed below are organised tours for Trans-Siberian Railway provided by some of the leading tour companies in the industry. Choose the route of interest from the list below and browse the available options. For further details and to book your tour, click "details & booking" to visit the tour company website.

Trans-Manchurian Railway (0)

Trans-Siberian Express (2)
Trans-Siberian Express
The original Trans-Siberian route extends all along the vast length of Russia, covering 8,000km and 8 time zones to connect Moscow with Vladivostok on its eastern coast. See full tour highlights
Trans-Siberian Express: St Petersburg - Vladivostok (2)
Trans-Siberian Express: Vladivostok - St Petersburg (0)
Style: All (2) | Budget (0) | Standard (1) | Comfort (1)
Trans-Siberian Express
19
days
from
£10295
incl. flights*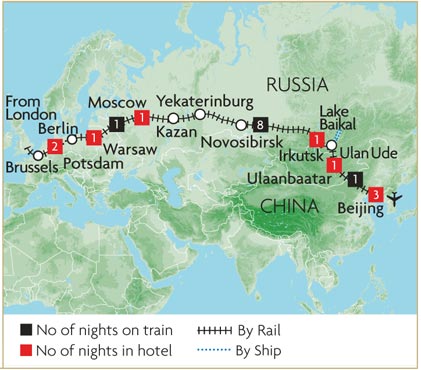 Step on board the Golden Eagle Trans-Siberian Express and be transported back to the romantic age of rail travel as we wend our way across the Russian steppes to the Sea of Japan in unprecedented luxury. This unique journey along the Trans-Siberian Railway is not so much a holiday as a true odyssey.
Great value, reasonable prices, quality experiences. Comfortable and varied tourist-class accommodations chosen for location and character. Mix of public and private transport for the best overall experience. All the top highlights included, plus plenty of time to explore on your own.
Epic Trans-Siberian Journey
17
days
from
£2082
excl. flights*
Imagine trying to cover ground across Russia far west to far east – a crazy thought, huh? The solution: Get on the Trans-Siberian with us and watch this epic land glide by through the window of a comfortable train. After visiting the historic sights of Moscow, take the train through the Ural Mountains (and cross into Asia!) to Yekaterinburg, before heading to the heart of Siberia in Irkutsk and Lake Baikal. Learn about Buryat culture in Ulan Ude before heading to the coast in Vladivostok. The whole trip covers 9,300km (5,778 mi) and crosses seven time zones. Whether you go in the summer or winter, this trip is the definition of epic.