Listed below are organised tours for Himalayan Frontiers provided by some of the leading tour companies in the industry. Choose the route of interest from the list below and browse the available options. For further details and to book your tour, click "details & booking" to visit the tour company website.
| | | | | | |
| --- | --- | --- | --- | --- | --- |
| Delhi - Kathmandu (5) | Delhi - Bhutan (0) | Kathmandu - Bhutan (0) | | | |
Delhi - Kathmandu
Connecting the capital cities of India and Nepal, this route travels from India's Golden Triangle (with visits to the Pink City of Jaipur and the Taj Mahal at Agra) to the holy city of Varanasi and onto Nepal, famed for its spectacular natural landscapes and colourful and distinctive cultural heritage. See full tour highlights
Delhi - Kathmandu (5)
Kathmandu - Delhi (0)
Style: All (5) | Budget (1) | Standard (2) | Comfort (2)
Grand Tour of India & Nepal
17
days
from
£2875
incl. flights*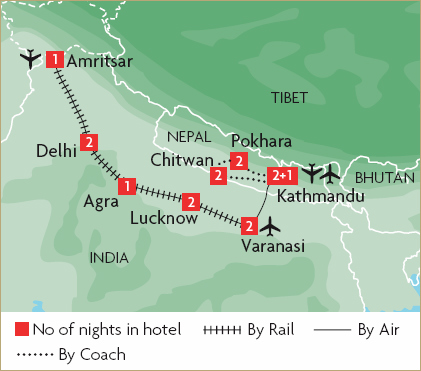 Explore the ultimate highlights of India and Nepal on this once-in-a-lifetime grand tour which includes some of the world's most beautiful buildings, temples, sights and scenery. We witness colourful and moving ceremonies, take an elephant safari and experience breathtaking views of the Himalaya from Pokhara.
All the adventure you want, with a softer landing. Handpicked, character-rich accommodations with upgraded amenities services. Upgraded and private transport, including flights to maximize time. More included meals, activities and transfers.
Explore India & Nepal
17
days
from
£1899
excl. flights*
Take 17 life-changing days to discover northern India's famed Golden Triangle and enjoy priceless time immersed in the heart of Nepalese culture. Explore the Taj Mahal and the iconic colours of Rajasthan. Spend a night at a Buddhist monastery and walk through the streets of Pokhara with one of the women from SASANE, a program that trains former victims of trafficking to become paralegals. From big highlights to intimate moments, this unique itinerary is truly unforgettable.