Listed below are organised tours for Himalayan Frontiers provided by some of the leading tour companies in the industry. Choose the route of interest from the list below and browse the available options. For further details and to book your tour, click "details & booking" to visit the tour company website.
| | | | | | |
| --- | --- | --- | --- | --- | --- |
| Delhi - Kathmandu (5) | Delhi - Bhutan (0) | Kathmandu - Bhutan (0) | | | |
Delhi - Kathmandu
Connecting the capital cities of India and Nepal, this route travels from India's Golden Triangle (with visits to the Pink City of Jaipur and the Taj Mahal at Agra) to the holy city of Varanasi and onto Nepal, famed for its spectacular natural landscapes and colourful and distinctive cultural heritage. See full tour highlights
Delhi - Kathmandu (5)
Kathmandu - Delhi (0)
Style: All (5) | Budget (1) | Standard (2) | Comfort (2)
Grand Tour of India & Nepal
17
days
from
£2875
incl. flights*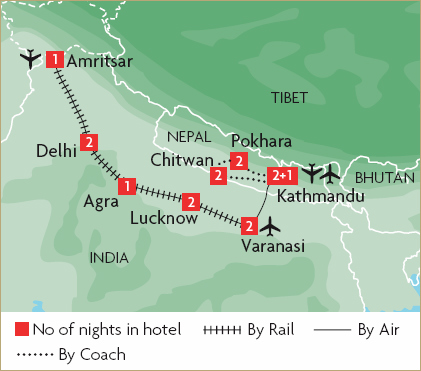 Explore the ultimate highlights of India and Nepal on this once-in-a-lifetime grand tour which includes some of the world's most beautiful buildings, temples, sights and scenery. We witness colourful and moving ceremonies, take an elephant safari and experience breathtaking views of the Himalaya from Pokhara.
All the adventure you want, with a softer landing. Handpicked, character-rich accommodations with upgraded amenities services. Upgraded and private transport, including flights to maximize time. More included meals, activities and transfers.
Explore India & Nepal
17
days
from
£1899
excl. flights*
Take 17 life-changing days to discover northern India's famed Golden Triangle and enjoy priceless time immersed in the heart of Nepalese culture. Explore the Taj Mahal and the iconic colours of Rajasthan. Spend a night at a Buddhist monastery and walk through the streets of Pokhara with one of the women from SASANE, a program that trains former victims of trafficking to become paralegals. From big highlights to intimate moments, this unique itinerary is truly unforgettable.
Get beyond the tourist façade of the countries you visit. Focus on the local culture, past and present, and discover the lifeblood of any country – its people. Discovery and culture tours uncover different ways of life, and offer the opportunity to meet and sometimes stay with local people or tribal groups. Our discovery tours explore cultural sites – both ancient and modern – and help you learn about the people and their culture. Visit the remote tribes of Ethiopia's Rift Valley, live the nomad life in desert camps or meet the local people of the high Andean altiplano in Peru. There's no better way to get to the true heart of a country than through its people.
Delhi To Kathmandu
17
days
from
£1439
excl. flights*
This journey takes us from Delhi to some of India's great cultural sights and into Nepal. We visit the 'Pink City' of Jaipur, search for the elusive tiger in Ranthambore National Park and marvel at the impressive Taj Majal. Camping on riverside beaches, we sail along the Ganges to the spiritual city of Varanasi. In Nepal we discover Buddha's birthplace, search for one-horned rhinos and explore the capital Kathmandu.
Departures:
2017 - 12th Oct, 16th Nov, 14th Dec
2018 - 8th Feb, 8th Nov, 22nd Nov, 20th Dec
Great value, reasonable prices, quality experiences. Comfortable and varied tourist-class accommodations chosen for location and character. Mix of public and private transport for the best overall experience. All the top highlights included, plus plenty of time to explore on your own.
The trips we've build our reputation on. Designed for maximum variety, these trips are geared towards travellers searching for a healthy mix of active exploration, uncommon landscapes, amazing wildlife and local cultures.
Delhi to Kathmandu Adventure
15
days
from
£719
excl. flights*
If you're looking to experience the diversity of India and Nepal, this 15-day trip contrasts the colourful culture of India with the pristine serenity of Nepal's Himalayan mountains. From the ghats that line the banks of the Ganges in Varanasi to a 4x4 safari in Chitwan National Park, our expert CEOs will take you through a region of unsurpassed natural beauty and spirituality before revealing to you the rugged Himalayan landscape of Nepal's magical capital, Kathmandu.
Excellent value, amazing prices, quality experiences. Simple and clean hotels, guesthouses and hostels chosen for location and character. Affordable public and private transport for maximum cultural interaction. Plenty of optional activities tailored to your interests and budget.
Popular with 18-30-somethings. Yolo trips are built for those who want to take on the planet in a fun and affordable way with a small group of like-minded travellers. Skip the oversized tour bus and truly connect with your destination. Hit the highlights without giving up the freedom to mix it up according to your own tastes.
Delhi to Kathmandu Yolo Adventure
15
days
from
£662
excl. flights*
India is less a place to see than a place to do, and this fast-paced 15-day tour ensures you live every moment to the fullest. With other youthful travellers, you'll sail the Ganges, have the opportunity to take a jeep safari in Chitwan National Park, and breathe deeply in the Himalayas of Nepal. It's a mix of classics like the Taj Majal and backpacker faves like Pushkar wrapped up in a riot of colour. And we do the planning but leave the choice of excursions up to you. Don't explore South Asia – live it.