Listed below are organised tours for Across the Southern Cone provided by some of the leading tour companies in the industry. Choose the route of interest from the list below and browse the available options. For further details and to book your tour, click "details & booking" to visit the tour company website.

Santiago - Rio (4)
Santiago - Rio
Crossing the Southern Cone from Santiago on the Pacific Coast to Rio de Janeiro on the Atlantic Coast, this journey encompasses some of the most interesting and culturally important cities in South America as well as visiting natural wonders such as Iguazu Falls and the Lake District. See full tour highlights
Style: All (3) | Budget (1) | Standard (1) | Comfort (1)
Trips in Africa, Central Asia, Middle East and South America on our own purpose built overlanding vehicles with a crew of two from 15 days to 15 weeks. Our vehicles carry up to 24 travellers and are camping based trips. Our trips are run on a full participation basis so have fun helping to cook for the group (on a rota system) and taking an active involvement in the day to day running of the trip.
Coast to Coast - Santiago to Rio
51
days
from
£1485
excl. flights*
This overland adventure is perfect for outdoor lovers, adrenaline junkies and party animals alike. View the spectacular mountains and glaciers of Torres del Paine and Los Glaciares National Parks, the vast wilderness of Patagonia, or try your hand at whitewater rafting, ice trekking or join in the festivities of Rio's Carnival or New Year's Eve celebrations
Departures:
2016 - 10th Nov
2017 - 4th Jan, 10th Aug, 10th Nov, 20th Dec
Great value, reasonable prices, quality experiences. Comfortable and varied tourist-class accommodations chosen for location and character. Mix of public and private transport for the best overall experience. All the top highlights included, plus plenty of time to explore on your own.
The trips we've build our reputation on. Designed for maximum variety, these trips are geared towards travellers searching for a healthy mix of active exploration, uncommon landscapes, amazing wildlife and local cultures.
Andes, Iguassu & Beyond
18
days
from
£2599
excl. flights*
This tour is designed for anyone looking for the most incredible natural and cultural highlights of southern South America. Spend 18 days exploring the cultures of Chile and Argentina with the Andes as your perfectly picturesque backdrop. Get active in the adventure-sport-lover's paradise of Pucon, Chile and then stand in the mist of majestic Iguassu Falls, before moving on to find out once and for all why Rio de Janeiro is the cultural icon it's become. Enjoy free time to explore this amazing city. Don't leave any adventure-stone unturned; do it all.
All the adventure you want, with a softer landing. Handpicked, character-rich accommodations with upgraded amenities services. Upgraded and private transport, including flights to maximize time. More included meals, activities and transfers.
Discover Brazil, Argentina & Chile
15
days
from
£3199
excl. flights*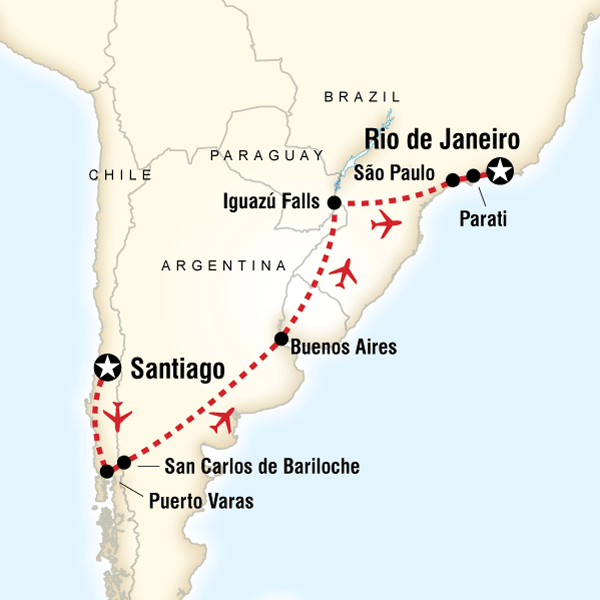 Within the bottom half of South America are some of the continent's most vibrant cultures. Experience everything amazing this region has to offer on this comprehensive adventure that takes you from Chile to Argentina and Brazil. This perfect combination of guided excursions and free time will have you sipping wine in Santiago, dancing the tango in Buenos Aires, and falling for the famous beach in iconic Rio.