We have carefully selected the following organised group tours from the world's leading adventure travel companies to offer you the best experience of travelling to India. For convenience, we have organised these into country-wide tours and (where available) regional tours, trekking itineraries and multi-country overland tours incorporating India. For further details and to book your tour, click "details & booking" to visit the tour company website.
Rail Tours of South India
Festival (0)
Rail (2)
Photography (0)
Gastronomy (0)
Sailing (0)
Volunteer (0)
Kerala & Exotic Southern India
17
days
from
£3595
incl. flights*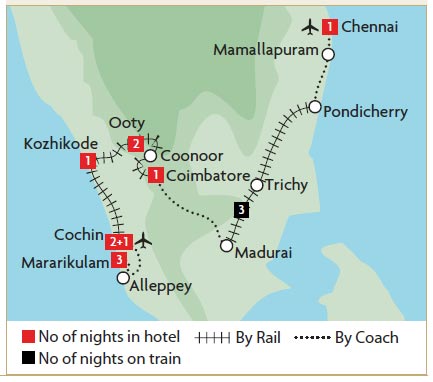 During this truly unforgettable rail tour of Southern India, we visit the cities, temples and tea plantations of the Tamil Nadu region before heading to Kerala. Here we explore the captivating city of Cochin, relax on Kerala's beaches and spend a full day cruising through the incredible, breathtaking backwaters of Vambanad Lake.
Great value, reasonable prices, quality experiences. Comfortable and varied tourist-class accommodations chosen for location and character. Mix of public and private transport for the best overall experience. All the top highlights included, plus plenty of time to explore on your own.
Southern India & Karnataka by Rail
10
days
from
£599
excl. flights*
As a country, India is so vast that sometimes it takes a couple visits in order to see as much of it as possible. Knock the less-explored southern region of Karnataka off the list right away. Over ten days' time, you'll take the train from Goa to Kochi via Karnataka and have the chance to see the breathtaking ruins of Hampi – a true highlight of the journey. Even more memorable moments await in Mysore and Madikeri as you explore opulent palaces and a coffee plantation. Hop on board and get ready for the ride of your life.
* Prices are either exclusive of international flights or inclusive of flights from and to the UK as stated. Prices may vary depending on the specific departure date. Some tours may include an additional local payment to be paid in cash (USD or EURO) to the tour leader at the beginning of the tour. Please refer to the tour website for details.